Alex "Mr. Panda" Mateo joins the gang to talk about amiibo!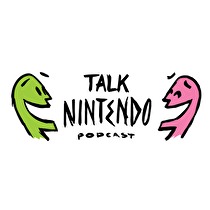 The E3 tidal wave has come and gone and we've managed to stay afloat. Getting back to our regular show, we're honored to be joined by Alex "Mr. Panda" Mateo! Alex tells us a little about himself before chatting about Disgaea 5. Neither Casey or Perry have put time into this one, so it was nice to get the run down on just how kooky this title is. The 3DS is more alive now than ever and Casey has been playing one of his most anticipated titles of 2017, Ever Oasis. Does Grezzo deliver or does it leave Casey stuck in the desert? Next up, MYSTERY HISTORY! Yes, it's been way too long, so Perry took things into his own hands and put Casey and Alex to the test. Wrapping up What We've Been Playing, the gang have all been playing the newest hotness that is ARMS! I think it's safe to say they've been enjoying themselves...OH OOOH OOOH OH OH OH OOOOOOOOH OH!!
Strap your seatbelts in because we've got a heck of an eShop Roundup! With tons of titles coming out on all 3 platforms we try to steam right through this bad boy. With E3 this past week you'd think we'd have a light news section, but we were able to drum up some interesting stories trickling out the past week. ARMS DLC, Level-5 trying to figure a way to bring Layton to the Switch and Xbox Live on Switch … wait what?! Oh yeah, we also introduce the Dumb Story of the Day - which is sure to leave you shaking your head.
The return of our Compatible segment is upon us and this week we tackle amiibo! The gang goes over a brief timeline of when and how amiibo came to be followed up by some of our war stories and personal collecting habits (addiction). We wrap up the show by giving our favorite and least favorite amiibo.
We want to thank Alex for coming on the show! Make sure to check out his YouTube, Pandas at Play, his personal site where he writes about games and on twitter!
If you have any questions, comments or concerns please contact by tweeting us or by send us an email!
We're honored to have @MrPanda2002 join us for a discussion about amiibo! Episode 39 is live: https://t.co/q4Q7DlS5xc pic.twitter.com/LZDRD3wOce

— TalkNintendoPodcast (@TalkNintendoPod) June 22, 2017