Check out everything going down over on Patreon this month!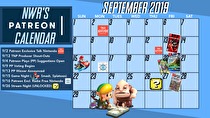 9/2 Patreon Exclusive Talk Nintendo
9/12 TNP Producer Shout-Outs
9/4 Patreon Plays (PP) Suggestions Open
9/9 PP Voting Begins
9/13 PP Winner Announced
9/15 Game Night (Mario Kart 8 Deluxe, Smash, Splatoon)
9/16 Patreon Excl. Radio Free Nintendo
9/26 Stream Night (UNLOCKED)
Here's what's happening this month over on Patreon including our new Stream Nights which have recently been unlocked!
If you're not a Patreon please consider joining in on the fun! For just $1 you'll get access to a bunch of exclusives including an exclusive Talk Nintendo Podcast and Radio Free Nintendo each and every month!!