Join us tonight for a live show where we talk Star Fox Adventures and Dinosaurs.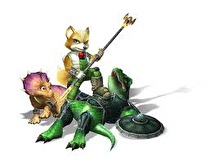 Last year on the NWR Childs Play Telethon, we promised to do a live show all about Dinosaurs, so here are the details on when and what will be happening.
On August 28, at 9PM Eastern, Nicholas Bray, Neal Ronaghan, Scott Thompson and Zachary Miller will be kicking things off with a segment all about Star Fox Adventures for the Nintendo GameCube. We will chat about some of the games history and our thoughts on the game from today's perspective. If you have some thoughts on the game we will be asking for questions and comments as well.
After that, we will be moving onto the main event of the live show, the Dino-Chat. Our resident Dino expert, Zach Miller will be standing by to drop some knowledge and take some listener questions.
Once the Dino-Chat has finished up we may go into a little overtime and continue chatting and fielding some general topic questions.
We have decided to host this live show via Google Hangouts to make it a little simpler on the technical side. We will definitely want to be taking call-ins from the listeners, so, if you want to come on to ask a question you will need to have setup your Google account for Hangouts, so try and test it out beforehand if possible, Hangouts requires a browser plugin.
If you would like to call-in we will be asking people to send an email into Connectivity@nintendoworldreport.com during the show, we will then provide a link for people to join the call.
We will also have some prizes to giveaway, including some codes for eShop games, so look forward to that and see if you can snag a prize.
Here's some extra time conversions to help people out:
Sydney Australia - 11:00AM, Saturday 29th of August.
London - 2:00AM, Saturday 29th of August.
Tokyo - 10:00AM, Saturday 29th of August.