NWR turns 10 today! To kick off the celebration, here's a few words from the Godfather himself, Billy Berghammer.
March 7th 1999. My girlfriend was out of town, and I was kind of bored. The N64HQ had closed down months before, and rumors began swirling about the successor to the N64. One of my close friends in Milwaukee was part owner of an ISP called NConnect Internet and gave me some free space to create one of the first sites dedicated to the next Nintendo console. So it was me, Front Page 98, zero experience in building a real website from scratch, absolutely no management skills whatsoever, and horrible design taste.
I still can't believe that a decision I made while bored on a Sunday afternoon would change my life forever, as well as many of the staff members that have drifted through the hall-less offices of PlanetN2000, Planet GameCube, and Nintendo World Report. Who would have thought that we would bring together hundreds of thousands of Nintendo fans for years to come? Actually, let's make that exactly ten years, today.
Happy Anniversary PlanetN2000, Planet GameCube, and Nintendo World Report! 10 Years!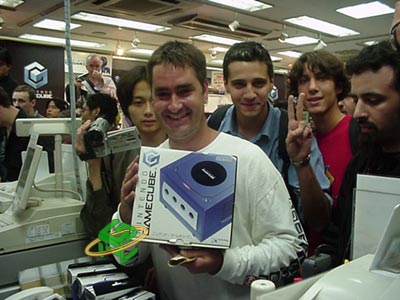 Wow! And looking back at our first days online, boy were we awful. In the beginning, there really wasn't a "we" per say. In the beginning it was just me trying to figure out how to create a website. Since there really wasn't too much information on N2000/Project Dolphin, a lot of it was speculation, dreams, and me babbling. But I had high hopes, big dreams, and very little else to do with my time since I was between radio jobs and living off of unemployment. At this time the interwebs were still very much in their infancy; the blogosphere wasn't even close to existing yet, the webcrash was still a few years out, and sites like IGN and GameSpot were just starting out.
After I networked up with a number of ex-N64HQ/OperatioN2000 staffers, Justin Nation decided to close the doors to his Dolphin site and move his forums and some features over to my server. One by one I recruited a number of writers who were just as excited to find out what Nintendo was cooking up. I never paid anyone for their hard work (except with games and hardware), and over the years people lost jobs, girlfriends/friends, and life opportunities for their contributions to our efforts. I owe an awful lot to the staff of this website. If it weren't for them, I wouldn't be where I am today.
Over the next week or so the staff will be featuring their memories of our site, and breaking them down year-by-year for the decade that this Nintendo website has been rolling along. As far as my favorite moments, there are really too many. In fact, for the most part, all of them were chronicled in the four years I was the Director of PlanetN2000/Planet GameCube. This website was my life. From its birth in Milwaukee, to moving up to Minneapolis for another (and my final) radio job, until I passed on my responsibilities when I basically ate, slept, and shit this website from morning to…well…morning.
However, if I had to pass on one favorite memory, it would be when I finally got to meet people from the staff. Whether it was E3, GDC, Space World, or Nintendo events, it was nice to finally put a face to the many AIM, ICQ, IRC, or phone chats. People from all walks of life and from all over the world would come together for a shared passion for Nintendo, and a bigger love for this website. These folks work their asses off around the clock to deliver you fresh and entertaining content, and that's why this site has been a continued success. I still stay in contact with many of the staff throughout the years today, and can't wait to see them again at E3 this year. It's going to be one hell of a party, fellas.
I'm extremely proud of the staff that's kept this website alive through its many iterations. Ten years is an accomplishment any website should be proud of – let alone a website whose staff has always done it for free. Happy anniversary Nintendo World Report! I look forward to seeing the next ten years to come!
Word.
B