They promise the nine-player running will come across, apparently.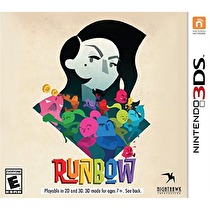 A new Amazon listing suggests that one of the most loved Wii U indie exclusives is about to grab the 3DS trophy.
The listing, which was found today has the game releasing for $29.99 ($23.99 with Amazon Prime) on September 6. Nighthawk Interactive, who published the PS4 physical version of The Talos Principle, is listed as the publisher.
We have reached out to 13AM Games to confirm or deny the existence of the game.
UPDATE: In a statement to Nintendo Life, 13amgames denied the report, but said to "look for cool Runbow announcements at E3". Nighthawk Interactive has several additional listings on Amazon, including the upcoming Wii U title Tumblestone. Although the platform in the linked listing is the Xbox One, the placeholder box art shows the Wii U version.
And now a Wii U version of Runbow has appeared on Amazon, with the same price and release date as the 3DS version.