Someone say a prayer for Sakurai.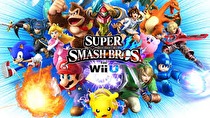 A noted Japan-based analyst has hinted that Bandai Namco has several titles in development for the NX platform, including a Smash Bros game.
No specifics were given beyond what was contained in the Twitter post, but the hint is that the Smash Bros game would be available at launch. Given the short turnaround from the last Smash Bros title, it is more likely that the game would be a "Game of the Year Edition" style release rolling up all of the existing DLC, but an original Smash Bros game has launched close to a system with Super Smash Bros Melee in 2001.
Bandai Namco is currently developing several NX titles. Smash Bros is planned to be a launch title. I am not sure about the date - yet ;).

— Dr. Serkan Toto (@serkantoto) January 28, 2016