Coincides nicely with a late night concert.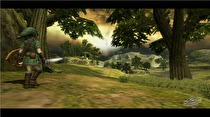 An icon has been unearthed on the eShop that doesn't point to an existing game but could be a sign of a remake coming soon to the Wii U eShop.
A hacker recently unearthed an icon on the Wii U eShop for The Legend of Zelda: Twilight Princess. The icon does not point to anything downloadable on the eShop, and does not have the traditional icon used for Wii games on Virtual Console of the title screen with a white border.
There has been a long-standing rumor of a remaster being used to fill the 2015 release schedule, but we have no confirmation of it as of yet. The Zelda: Symphony of the Goddess will be performing tonight on the Late Show With Stephen Colbert on CBS, which is likely to be a coincidence but could be an excuse to make a Zelda related announcement.
UPDATE: It appears an entry for Twilight Princess HD (at least in Japan) is now showing on the Wii U update servers according to WiiUBrew.