For once, you should read the comments even if it's not fully confirmed.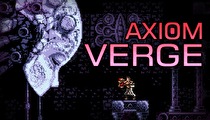 A year after Jonny Metts famously called out Reggie Fils-Amie about Axiom Verge, the Metroid homage may be coming to Wii U.
A comment posted on a Destructoid article about games similar to Metroid from Axiom Verge developer Thomas Happ states the game is coming to Wii U next year, and although they want to get the game on 3DS as well, hardware differences may prevent the project from happening.
"I can't commit to anything, but Axiom Verge will *probably* be available for Wii U in 2016. 3DS is quite a bit more difficult since the hardware is so completely different. Should Nintendo be reading this and decide to lend me a hand, that'd be VERY appreciated!!" - Thomas Happ