You could be creating infinite Batmen in September.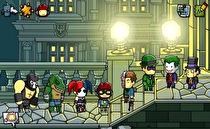 5th Cell's newest game, Scribblenauts Unmasked: A DC Comics Adventure, is slated release later this year on September 24, according to a source close to publisher Warner Bros. However, the source noted, this date could change.
The game, coming to Wii U and 3DS, will feature DC Comics characters, and will be published by Warner Bros. Interactive.