No news on Cowardly Option.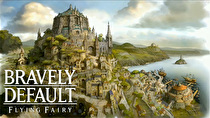 Bravely Default: Flying Fairy may be coming to the west according to Siliconera.
Their report states that multiple trusted sources have said it is being localized for English speaking players. Bravely Default is a well received JRPG that released in October of last year in Japan.
Developed by Silicon Studio, best known for their Zelda-influenced title 3D Dot Game Heroes, the game is a spiritual successor to Final Fantasy: The 4 Heroes of Light. Its battle system has players carefully manage their turns; risk them all for a chance to wipe out the enemy, or bide your time and store them for the chance of an even stronger attack. StreetPass is an important aspect of Bravely Default's design. Players can call upon StreetPassed friends for help in battle, and even populate and rebuild a village.
At this time, Square Enix has not officially announced a Western release so this remains a rumor.