Madden may be missing Nintendo's home console for the first time since 1991.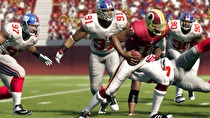 Madden NFL 25 has been announced for an August 2013 release, but the announcement did not include mention of any Nintendo platforms. The game, named in honor of the 25th anniversary of the series, was announced specifically for PlayStation 3 and Xbox 360.
The Madden series has been available on Wii since Madden NFL 07, and the GameCube received Madden every year from Madden NFL 2002 through Madden NFL 07. Before that, the game came to Nintendo 64 in 1997 with Madden 64 and came yearly after that through 2001. The series made it's Nintendo debut on Super Nintendo in 1992 and was available yearly through 1998.
The game appeared on Nintendo 3DS for the system's launch year, but has not reappeared since.
Nintendo World Report has reached out to EA Sports for confirmation that the game will not be available on Wii U.