Is Nintendo bridging the divide between the handheld and the console divisions?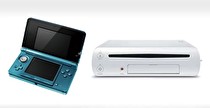 Nintendo is undergoing a significant reorganization, bringing their handheld and console hardware divisions into one studio according to a report from Japanese newspaper Nikkei. This is the first major restructuring of these divisions since 2004. The new combined division will be responsible for thinking into the future, beyond Wii U and 3DS, and helping Nintendo compete in a market with the growing distribution of smartphones and tablets.
The move, coming February 16, will bring the 150 employees in the handheld division and the 130 employees in the console division into an entirely new department, "Unified Development Headquarters", which will eventually fill a building next to Nintendo's home office in Kyoto by the end of next year. Once the teams are united, they will be broken into new divisions based on hardware expertise such as design or circuitry.
Nintendo hopes this unification will help create product synergy between their handheld and console devices, something heavily pushed during the era of the GameCube and Game Boy Advance. While Wii and DS saw some integration, there has been very little integration between 3DS and Nintendo's home consoles. In addition, this should help out by maximizing the shared resources which exist in both handheld and console development.