Could we be seeing a new RE game on 3DS this year?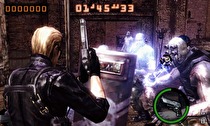 A new Resident Evil game, tentatively titled Resident Evil: Degeneration-Damnation-Downfall 3D, might be coming to 3DS later this year. This news supposedly came from an article on Digital Spy, which has since been removed.
Two of the subtitles for the game are references to movies that would be available on the game cartridge. The last, Downfall, would be a new game in the Resident Evil series.
Downfall would take place between Resident Evil 5 and Resident Evil 6, and would reportedly feature Claire Redfield as she witnessed the downfall of humanity.
Two Resident Evil games were already released on the 3DS within a year of each other. So seeing another on the system is by no means a stretch. With E3 less than a month away, we will surely know soon whether this rumor has any validity.