An e-reader could be the first of many app experiments on the Wii U.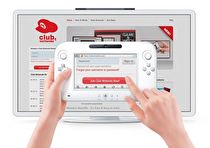 The Wii U may yield an expansion of apps according to rumors that have surfaced around the web, one of them stating that an e-reader service for digital books is in the works.
According to an anonymous source of Forget the Box, Nintendo has approached a software company in Los Angeles in order to publish some iOS software on the Wii U so it can be played using the system's touch screen controller.
The same source also stated that Nintendo may bring an e-reader store where users can download books, magazines, newspapers, comics and even guides which then can be read on the touch screen. The digital issues would have a searchable index, and users would also be able to zoom into the pages. Much like the way different iOS devices share content, the 3DS could share the same e-reader software.
In addition to the books and other print media, Nintendo has also been looking to provide digital manuals for some of their games, including Virtual Console releases. Allegedly, Nintendo has also been seeking to collaborate with various publications to provide content based on different subjects like fashion, sports, film, health, lifestyle and such. Furthermore, Nintendo is interested in releasing digital issues of their Nintendo Power magazine, featuring issues from 1988 all the way up to the current issue.
The Wii U app store is believed to be very robust, and Nintendo hopes to attract several audiences so the system gets heavy use by everyone in the family.