Some of these ideas include expansion of the sticker power up and Samus based more on Other M.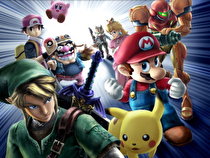 A supposed idea sheet for the next Smash Bros. game has been leaked onto the internet.
This idea sheet was allegedly sent to Sakurai's staff. In it, staff members would write out the ideas that they would like to see in the game. One of these sheets has been leaked onto the internet.
One of the ideas presented in this sheet is an expansion of the stat-changing sticker system seen in the Subspace Emmisary single-player mode in Brawl. The sheet mentions that Square Enix's The World Ends With You used a similar system. While it does mention Neku, he is used as an example of how the badge system affects the character development.
The sheet mentions that the Mario franchise has seen great expansion in the last few years, and thus the new game should reflect that. It is likely that the creator is referencing games such as New Super Mario Bros. Wii and the two Galaxy games, games that have been greatly received by the media and gamers alike.
Other M and Zero Mission are mentioned, stating that the games presented Samus and Ridley in an unique way. It is mentioned that these games showed that Samus shouldn't necessarily be a "slow" character, that she has great agility and the game should present that side of her.
In other character-related ideas, the creator mentions that he feels that the Mother (Earthbound) and F-Zero franchises are done, and has no real ideas for these characters. Sega, Square Enix and Konami are mentioned, though it isn't stated in what way they should contribute to the game. Brawl, however, featured Solid Snake and Sonic the Hedgehog as playable characters, so the creator could have been referencing that these characters should return and be updated.
The development of Kid Icarus: Uprising is nearing its completion, which means that the Smash Bros. game (which was announced for both the 3DS and Wii U) could be entering the pre-production phase. However, this is all rumor and in no way an indicator of what the final game will be like.