A Best Buy may have stocked 3DS eShop cards early.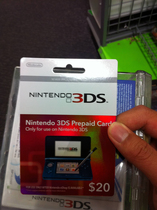 Several hours ago, an enthusiastic Redditor posted what appears to be a legitimate phone-cam snap of a prepaid 3DS card, found on a US store shelf.
Clearly, the authenticity of pictures posted on Reddit are to be taken with a grain of salt, but if it's a Photoshop fake, it's well-made. Zooming in on the display case label shows that the early stocking was made at a Best Buy store in the US, though details beyond that are sketchy. Whether the poster was a customer or staff of the store is unknown, and they sadly don't provide any more details.
The original image was posted upside down but while scouring the image for obvious forgery signs in Photoshop, I took the liberty of flipping it right-side up.