All RPGs all day every day.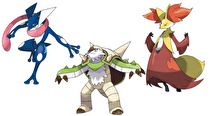 I'm a man who loves a good RPG and I only recently picked up Bravely Default. In case you didn't know, the game is amazing. Check out our review!
With all of this Bravely Default going around in my head, it got me thinking... If your favorite Nintendo Character had a class (like Fire Emblem, Bravely Default, Final Fantasy Tactics, etc.) what would it be? Check out what our staff said! Got an idea for a character class for your favorite Nintendo mascot? Let us know in the comments below!
Bryan "Old Wise King" Rose
Mario? A black mage, because he shoots out fireballs. You can also go with Monk since he doesn't use weapons (unless he has an item). Peach would probably be a white mage. She kind of was anyway in Super Mario RPG.
Kimberly "Maniacally Laughing Boss" Keller
I would make Peach a mage and she'd be all "Pew pew pew!! Super deadly lasers... that are magic!! Bahahahaha!!!" And Pikachu would be a quick little rogue, just zippin' along and stealin' stuff left and right. Just a tiny little yellow menace to your pocketbook.
Zachary "Wandering Swordsman" Miller
I'm not sure what Samus would be. Maybe an Elf/Archer since she uses a lot of ranged attacks?
Neal "Demonic Final Boss" Ronaghan
Little Mac would a be a scrappy little fighter.