Our staff shares their expectations for Square Enix's latest 3DS RPG.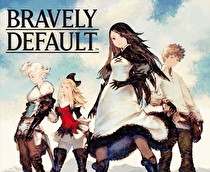 With Square Enix's latest Japanese RPG, Bravely Deafult, out in North America, we asked our staff their expectations for the game, and if it will be the game that rekindles their love for JRPGs in general.
Zachary Miller:
I was initially excited about it, but the demo killed it for me. The focus on Jobs makes me sad—I like an RPG that just gives you the usual classes and says "go" rather than making me worry that I'm playing the game wrong.
The game looks great, though.
Tom Malina:
My JRPG tolerance is very specific, so in general, if I am to get excited about something like Bravely Default, the systems it employs need to be accessible enough that I can not only understand how they work, but also feel like I can make effective, intelligent use of them.
I certainly expect Bravely Default, based on the impressions I've seen, to be a good game, but that doesn't mean I anticipate it will be something I personally want to play.
Andy Goergen:
At this point, it's very difficult for me to find myself invested in anything that doesn't have the ability to pick up and get playing (and feel satisfied) within a minute or two. JRPG's don't really fit that mold, but if there was some sort of pick-up-and-play mechanic in this game that didn't require me to set aside 30 minutes every time I wanted to play, then that might get me excited for the game. As it stands, no matter how pretty or epic the game is, it just doesn't fit the way I play games anymore.
J.P. Corbran:
I'm not generally a JRPG guy, and originally wasn't even interested enough to download the demo, but hearing people talk about it, even when they meant it as complaining, got me to try it. Before long I was completely hooked. The only non-Pokémon JRPG I've ever really come close to completing was the original Final Fantasy, which I loved, so I feel right at home with what you might call the archaic nature of a lot of it. This shows the power of demos, as I went from not interested at all to buying it day one because I had a chance to try it.
Guillaume Veillette:
My 3DS is starved for another JRPG and Bravely Default will keep me busy for quite a while. Experimenting with the various classes in the demo was fun. The only thing missing was a fun world to explore, something that the full game will fix. I especially like how the game seems to respect the player's time, allowing him to fast-forward through the battle animations, and reduce or turn off the random encounters completely. It doesn't hurt that the game is easy on the eyes and the ears, as well.
Neal Ronaghan:
I keep on going back and forth on if I want to get Bravely Default. My first impression with the demo was bad, but I've gone back and enjoyed it a bit more. I keep on coming back to the whole idea that I think I'd rather finish a DS RPG like Dragon Quest VI or Radiant Historia that I never polished off. I think this is the kind of game that I could be at a Target for something else and I walk out with the game. Or it's late night on a Saturday, I had a few beers and I'm on the eShop. I mean, that worked with Monster Hunter 3 Ultimate last weekend. Who knows.