The podcast marathon returns to raise money for Child's Play.
It's all over! The telethon was a huge success, and we sincerely thank all the donors, special guests, audience callers, and fantastic NWR staff members who made all this work so well. We did get a recording of the show, warts and all, and we'll be releasing it in parts this week.
Telethon Recording, Part One (3:07:29) - MP3 or AAC
Telethon Recording, Part Two (3:05:43) - MP3 or AAC
Telethon Recording, Part Three (3:09:10) - MP3 or AAC
(We'll leave the original event page below in case you want to see how it all went down!)
We're back with another mega-podcast for charity, all performed live with many opportunities to interact with the NWR crew and our special guests. Please consider supporting this event with a generous donation to Child's Play -- all money goes directly to Child's Play and counts toward our fundraising goals. When certain amounts are reached, we'll unlock another hour of exciting live content!
Join us in the chat room while we're on air. Schedule is below the chat box. Having trouble? You can also connect with a dedicated IRC client. Server: irc.browsingtheinternet.com Channel: #nwr
JIGGAWHAT: An epic, slightly precedented Nintendo/gaming-themed live audio "podcast" telethon
JIGGAWHY: To support Child's Play, a charity that provides toys and games to sick kids
JIGGAWHO: Nintendo World Report staff, special guests, and you!
JIGGAWHEN: Saturday, November 19, 12:00pm (Noon) Eastern until...?
JIGGAWHERE: Right here! Check back for the audio stream, live chat, and donation link.
JIGGAHOW: Magic of the Internet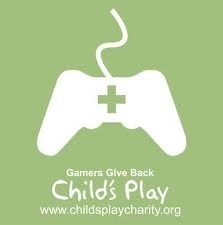 Here at Nintendo World Report, we've long been supporters of Child's Play, the fantastic charity that provides toys and games to hospitalized kids. If you're not familiar with Child's Play, check out the official website and listen to Jonny's RFN Special interview with Mike Krahulik, co-founder of the charity (and Penny Arcade), way back in 2007. So, when our old friend Karl Castaneda brought us an idea for doing a special, live-streaming podcast to support Child's Play, we got excited. Not only can we do things live that don't make sense in the recorded version, like real-time listener interaction, but the lack of editing means there are fewer constraints on how long the show can run. Then we thought... why not do it telethon-style, all day long? It was amazing last year, and we were able to raise over $2000 for this amazing charity, all thanks to our wonderful listeners and fans!
***If you are new to NWR podcasts, please be advised that the show contains explicit language. We're doin' it for the kids, but the show itself is for grown-ups.***
Content Program and Fundraising Goals
(Note: Schedule and guests are subject to change before and even during the event. Each hour of content will be unlocked when the corresponding donation goal is met. Fundraising goals are totals; i.e. all previous donations are counted toward the amount.)
12:00 EST - Intro / New Business (Free)
1:00 EST - Skyward Sword Spoiler-Free Review Roundtable with Special Guests ($400)
2:00 EST - Listener "Mail" Call-In Bonanza ($800)
3:00 EST - Game of the Year Roundtable ($1200)
4:00 EST - Radio Trivia Live with TYP and Greg ($1600)
5:00 EST - Memoirs of a GameCube w/ Billy Berghammer ($2000)
6:00 EST - Famicast: Live from Japan ($2400)
7:00 EST - NWR Connectivity Jeopardy ($2800)
8:00 EST - Shenanigans! - TBD ($3200)
We will make every effort to obtain a clean recording of this live event, but due to the complex technical nature of doing so, we cannot guarantee a recording will be available later. Please plan to attend the event live if you want to be sure!
Prize List for Trivia Winners (Pick your prize! We'll ship anywhere! No donation required to win.)
Swag:
Professor Layton & The Eternal Diva (DVD, English, Region 1) - Courtesy of UncleBob
Sonic plush headwear
Nintendo pin badge set (Link, Kid Icarus, Mario Kart, Luigi) + MGS:Snake Eater 3D Lanyard
Nintendo pin badge set (Link, Kid Icarus, Mario Kart, Super Mario, Fox)
Mario Sports Mix T-shirts M,L,XL
Conduit 2 T-shirts M x 2
Disney Guilty Party T-shirt XL
Cartoon Network Punch Time Explosion T-shirts XL x 2
Call of Duty 4 T-shirt 2XL
Goldeneye T-shirt L
Rune Factory 2 Plushie
Windwaker Link Plushie
"Booker" Animal Crossing Plushie
"Ghost Mario' Plushie
Street Fighter 3DS T-Shirt (Small)
Street Fighter 3DS Cap
Star Fox 64 3D Scarf
Nintendo 3DS Lanyard
Legend of Zelda: Ocarina of Time 3D Lanyard
Check back soon for more gaming swag to be given away during the event!
Games:
Your choice of any WiiWare or Wii Virtual Console game ($10 limit, four winners, U.S. only) - Courtesy of UncleBob
Beat City (DS)
Jam With The Band (DS)
MotoHeroz (WiiWare - Canada Only)
NIS America Pack: Sakura Wars (Wii), Phantom Brave (Wii), Atelier Annie (DS) - Courtesy of NIS America
Call of Duty: Modern Warfare 3 (DS)
Fishing Master (Wii)
Check back soon for more games to be given away during the event!

By using the ChipIn feature, 100% of your donation will be sent directly to Child's Play via PayPal (no fees will be deducted, since Child's Play is a non-profit organization). The ChipIn box simply helps us track how much money has been raised through this event. Additional hours of the live show will be unlocked once we reach certain fundraising goals. You can start donating NOW to help make sure this will be an epic event and a big help to Child's Play! We hope to make a rough recording of the entire live show available to each donor and maybe to all RFN subscribers. However, for technical reasons, we cannot guarantee that a recording will be possible. Be sure to attend the live broadcast on November 19th so you don't miss a thing!