We warned him.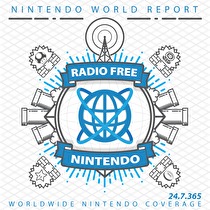 Subscribe via iTunes (Please rate and review, too!)
Quick episode for our return show, so here's a brief rundown of our New Business-only show.
Gui: The Gardens Between
Greg: Pokémon, Darius Cozmic Collection
James: Mega Man X Legacy Collection 2, 911 Operator, Guts and Glory, Downwell, Kitty Love (yep)
Jon: SEGA AGES: Phantasy Star.
James (again): KUUKIYOMI: Consider It!
As always, email goes here. Consider It!
This episode was edited by Guillaume Veillette. The "Men of Leisure" theme song was produced exclusively for Radio Free Nintendo by Perry Burkum. Hear more at Perry's SoundCloud. The Radio Free Nintendo logo was produced by Connor Strickland. See more of his work at his website.
This episode's ending music is Neon Night Riders from Teenage Mutant Ninja Turtles IV - Turtles in Time. It was selected by Greg. Composition by Kozo Nakamura. All rights reserved by Konami Digital Entertainment Co., Ltd.