Googling Radio Free Nintendo's "best game" of 2015 is more akin to cliff diving.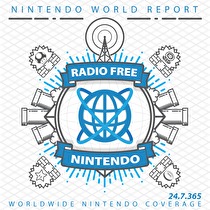 Subscribe via iTunes (Please rate and review, too!)
It's 2019, and the future is now.
Over the holiday we played a lot of games.
Q: How many games?
I don't know, a bunch.
Q: How do you know it was a lot of games?
I mean, mostly inference. We do plan this show ahead of time, so I have some idea of...
Q: You actually plan this mess?
Look... No, but I pretend to so people don't ask too many questions.
Q: So this is just a New Business episode?
Sort of, we did make some...
Q: Why does this need this kind of article?
Let me finish! We gamified your New Business segment to maximize return on gameplay time.
Q: Is this a J&J segment?
Yes, but that's irrelevant. Look, I'm just going to lay out our game, so shut up.
We went round-robin talking about games, limiting each game to about 10 minutes. After our turn was up, we picked the next game for the next person to talk about.
Q: Any game?
No, we had the list of what everyone played. See? It's a game! You don't know what you're going to talk about, but you know at least one other person is interested in hearing about it. It's fun.
Q: So you do know how many games?
MOVING ON, here are the games we talked about:
Jon: Monster Hunter Generations Ultimate (Switch)
James: Zone of the Enders: The Second Runner — Mars (PSVR)
Guillaume: Donut County (Switch)
Greg: Wolfenstein II: The New Colossus (Switch)
Jon: Lumines Remastered (Switch)
James: The Messenger (Switch)
Guillaume: 1979 Revolution: Black Friday (Switch)
Greg: SNK 40th Anniversary Collection (Switch)
Jon: Destiny 2: Forsaken (Xbox One X - "The World's Most Powerful Gaming Console")
James: Astro Bot Rescue Mission (PSVR)
Guillaume: Owlboy (Switch)
That's 11 games, which must be some kind of New Business record.
So if there are no more questions, enjoy.
Q: Where do I send my questions?
Here.
This episode was edited by Guillaume Veillette. The "Men of Leisure" theme song was produced exclusively for Radio Free Nintendo by Perry Burkum. Hear more at Perry's SoundCloud. The Radio Free Nintendo logo was produced by Connor Strickland. See more of his work at his website.
This episode's ending music is Melty Molten Galaxy, from Super Mario Galaxy. Composed by Mahito Yokota. It was requested by David from California. All rights reserved by Nintendo Co., Ltd.