Available where nightmares are sold.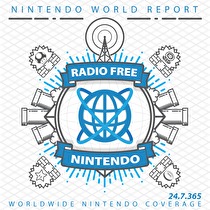 Subscribe via iTunes (Please rate and review, too!)
One week out from our big Episode 600 shindig, we launched into an unintentional All-Email episode. That's okay, we covered a lot of ground this week: pursuing your dreams, Shy Guy naming conventions, the "best" Zelda dungeons, great ideas for Smash DLC, and the future of retro collections. It's a lot of ground for one show, but you can provide additional topics by sending an email.
Saturday is the live Episode 600 and our RetroActive on Super Punch-Out!!. We are recording it at 1 PM Eastern US. Show wil be available here. You can get a head start on the Punch-Out!! RetroActive in our Talkback thread.
This episode was edited by Guillaume Veillette. The "Men of Leisure" theme song was produced exclusively for Radio Free Nintendo by Perry Burkum. Hear more at Perry's SoundCloud. The Radio Free Nintendo logo was produced by Connor Strickland. See more of his work at his website.
This episode's ending music is Title theme, from Pictionary for NES. It was requested by Zonic. Composition by Tim Folin. All rights reserved by Acclaim Entertainment, via LJN.