It's entirely possible these titles are just being randomly generated. You can't prove otherwise.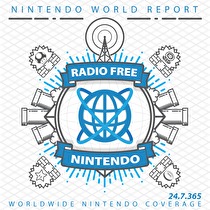 Subscribe via iTunes (Please rate and review, too!)
Episode 600 inches ever closer, not that we care. We only care about the present, and the present is Jon's New Business. His burst of thoroughly modern gaming is...WipEout Omega Collection. Okay, so it's an old collection of older racing games, but it is future racing and if you average "Past" and "Future" you get "Present!" It's a different vision for the "future racer" than a game like F-Zero, but it's well worth a look. Greg has some early thoughts on Octopath Traveler, but he's still quite early and will undoubtedly have more to say in the near future. Instead, he devotes the majority of his time to the Hori D-Pad JoyCon. It's got no battery, no motion control, no wireless, no rules, and can only be used in handheld mode. But, it sure does feel mostly authentic. Guillaume seems to have lost track of the calendar and observed Thanksgiving about six weeks early (pray for him). He used this time to play The Jackbox Party Pack 4. Civic Doodle was the standout, but unsurprisingly the fourth Jackbox is ultimately just more Jackbox. He also had some time with 3DS versions of Dragon Quest VIII and Sushi Striker, praising the former's localization. James concludes New Business by talking about the utterly boring Jettomero, and then falls down a deep depressing hole when Mega Man 11 fails to live up to his hype.
That's a lot of New Business, and maybe you've forgotten the opening promise that RFN is focused on the present, but we still are. That's why we answer two Listener Mail questions that serve as delightful foils: what game had a good idea that it failed to deliver, and what game fails to deliver but succeeds anyway. These actually are two distinct emails, one sporting a hilariously unnecessary alias. You can send us questions as "Colonel Mustard" by pinging the inbox.
Finally, it's time for some podcast business. Are your hands tingling? Are you feeling light-headed? You should call a doctor! But also, learn to block because we're about to fire up our next RetroActive, Punch-Out! Which Punch-Out!!? Every Punch-Out!!! We're going to especially focus on Super Punch-Out!! but all Punch-Out!!'s are fair game. Punch your favorite Pizza Pasta and join us for our RetroActive on Punch-Out!! as part of Episode 600!...!
Details and talkbacks will be provided soon.
This episode was edited by Guillaume Veillette. The "Men of Leisure" theme song was produced exclusively for Radio Free Nintendo by Perry Burkum. Hear more at Perry's SoundCloud. The Radio Free Nintendo logo was produced by Connor Strickland. See more of his work at his website.
This episode's ending music is the end theme, from Luigi's Mansion. It was selected by Greg. All rights reserved by Nintendo Co,. Ltd.