Smash Bros. is all about crossovers and mix-ups.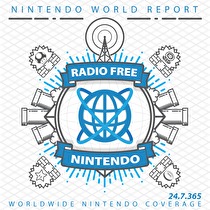 Subscribe via iTunes (Please rate and review, too!)
Wednesday gave us the latest look inside the mind of Masahiro Sakurai's; we spend the first half of the episode breaking down the Super Smash Bros. Ultimate Nintendo Direct. We have vampire hunters, a gator man, and more digits than a number fetishist can handle. Forget "Everyone is Here," every THING is here. All the music. All the franchises. All of it. So of course, the conversation turns to "what should we add." The answer: Squid Mommies, the truck from Excite Truck, and Abra-only battles.
After the break we pick up with some New Business. Greg starts us off with Iconoclasts, the latest action platformer from Konjak - maker of The Legend of Princess and Noitu Love 2. Greg finally gets his shot at one of Konjak's games, and he enjoyed it. Syrenne finally brings Octopath Traveler to the RFN table, and she has some thoughts on the game. Let's just call it "constructive criticism" and advice for maximizing the fun you can have with Octopath Traveler. Jon's made a move on the newest Roguelite/Metroidvania on Switch, Dead Cells. Jon is just getting started, and will have more to say next week, but all reviews say that this game is great. That said, as a podcast staffed entirely by a collection of shambling corpses we feel like it doesn't really reflect the tedium of this death style.
No email this week, but don't let that stop you from sending us your questions.
This episode was edited by James Jones. The "Men of Leisure" theme song was produced exclusively for Radio Free Nintendo by Perry Burkum. Hear more at Perry's SoundCloud. The Radio Free Nintendo logo was produced by Connor Strickland. See more of his work at his website.
This episode's ending music is The Lost Portrait, from Castlevania: Symphony of the Night. It was selected by Greg. Composition by Michiru Yamane. All rights reserved by Konami Digital Entertainment Co., Ltd.