You still can, but the shame is as indelible as backing Ouya.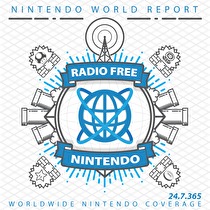 Subscribe via iTunes (Please rate and review, too!)
Assuming Guillaume hasn't excised 80% of the audio, this is a week of revelations. Guillaume is going to live forever, Jon backed Ouya, James is deep into the Fire Emblem fan canon, and Greg has a remarkable ability to walk away unscathed. With so many grand revelations, it should go without saying we didn't have time to make a normal show. After taking a week off New Business, we've created a bit of a backlog so this week is an all New Business catch-up show.
Greg kicks us off with a look at Mario Tennis Aces. More feature-rich than any recent Mario Tennis title, it's great to see "the gentlemen's game" represented as the respectable sport it is. He also is able to comment on the length of the single player mode (not) and the online play (better than the demo). Speaking of returns to form, the demo for WarioWare Gold is out in Europe (and Australia). It has been a very long time since Wario, Mona, Kit and Kat, Dr. Crygor, and 8-Volt 9-Volt? have been part of a proper new game and we're all jealous of Greg getting to play the demo. Well, James is. Guillaume reviewed Shape of the World, a "first person adventure" or some other word-salad designed in vein to supplant the pejorative "walking simulator." I'd tell you what Gui thinks, but even he seems unsure. He then tripped into the Warriors Hole with Fire Emblem Warriors. It turns out the plot of Fire Emblem Warriors has a few things in common with Fire Emblem Heroes: heroes from another world, new characters, and LITERALLY EVERYTHING. Be worried for Gui, we know his love of beat-em-ups and score attack games. Warriors are both. He then concludes his New Business with Mario + Rabbids Kingdom Battle. He doesn't have the Big Ape's DLC, he's just decided now was the time to resume the main campaign. He's still a fan.
We went very long so we decided to take a break and continue New Business with Jon, talking about Fortnite. It took a little while to get there, but once he started detailing the way Fortnite reaches for your wallet Business Jon manages to entice Business James from the cave Regular James imprisoned him in. This is a dark chapter full of business insights and personal revelations. Speaking of personal revelations, James is still reviewing games for some self-destructive reason. He's already posted a review of MUSYNX, a Vocaloid-laced, anime-inspired, rhythm game. Its deeply customizable difficulty actually makes this one pretty appealing. He drunkenly declared himself "King of Anime Lunch," while streaming - so it must be good! He closes out the show with Pato Box, a game that finally answers the question of "What would Punch-Out!! be as an adventure game?" Jon is unable to deal with the duck-headed protagonist but James is mostly unable to deal with the outrageous expectations the game has for the player.
If you're still listening, you can send your complaints to our inbox.
This episode was edited by Guillaume Veillette. The "Men of Leisure" theme song was produced exclusively for Radio Free Nintendo by Perry Burkum. Hear more at Perry's SoundCloud. The Radio Free Nintendo logo was produced by Connor Strickland. See more of his work at his website.
This episode's ending music is Main Theme, from No More Heroes. It was requested by Derek. All rights reserved by Marvelous Entertainment Inc.