Radio Free Nintendo's stock just spiked.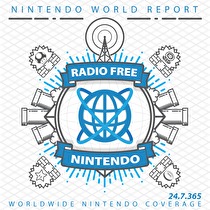 Subscribe via iTunes (Please rate and review, too!)
Jon's back, and he kicks off New Business with a look at Arcade Archives VS. Super Mario Bros. One of approximately 50 million people who bought the game on Switch, this coin-chomping version of Super Mario Bros. is exactly as advertised. He then looks at Rise of the Tomb Raider, the sequel to the fiftieth reboot of the Tomb Raider franchise. The crafting and survival mechanics fit the game well, as do the myriad death cutscenes. Guillaume taps into a dangerous era of Quebec history with Kona, a historical fiction set in the late 1960s. His closeness to the subject matter, and Jon's shameful hatred of all things Francophone, very nearly sparks a new independence movement. James tries to get us back on track with more thoughts on Yakuza 5, but it's a Yakuza game and it's the twentieth time he's talked about them. Maybe he'll play GalGun on PS Now; I'm sure that will calm the show down. Greg is still enjoying the fruits of Bayonetta in portable form, and I refuse to reword this sentence. He also talks about his experience converting his previously-useless Gold Points into eShop credit. Lastly, he takes a last look into the twilight of another Nintendo point system by perusing the Virtual Console entries of the Wii Shop Channel. Remember, it's the last week to add points in the Wii Shop. We'll be playing some games in there ourselves, but not in the RetroActive format.
After the break, we try to salvage an already wounded show with email. This week we're baited into killing Smash characters, adding Smash characters, soothing Switch owners indignant that a nearly 20-year-old GameCube game is only coming to 3DS, and justify a life wasted playing video games by finding our "proudest accomplishments." You can meekly justify bad life choices by sending us an email.
This episode was edited by Guillaume Veillette. The "Men of Leisure" theme song was produced exclusively for Radio Free Nintendo by Perry Burkum. Hear more at Perry's SoundCloud. The Radio Free Nintendo logo was produced by Connor Strickland. See more of his work at his website.
This episode's ending music was requested by T.J.: Last Duel, from Lufia & The Fortress of Doom. All rights reserved by Taito Co., Ltd..