Spend this much time on your past and you'll go blind.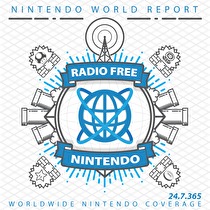 Subscribe via iTunes (Please rate and review, too!)
We're days away from the Nintendo World Report Telethon to support Child's Play charity. If you've somehow missed the announcement, we'll be live starting at 11:30 AM Eastern on Saturday, December 2. All the details are here. An additional reminder, RFN will be doing our live La-Mulana RetroActive at noon, so get started if you're not already playing.
James kicks-off New Business this week with impressions of Thimbleweed Park, a retro-styled point-and-click adventure from the creators of classics like Maniac Mansion. Faithful to their legacy, it's a fine title for those that appreciate games of this style, although the back-patting can be a bit extreme. He also offers a passing review of the Phoenix Wright: Ace Attorney manga. It's a heck of a ride.
The Shinkansen to San Francisco pic.twitter.com/H20hww6RyJ

— James Jones (@NWR_James) November 24, 2017
Greg gives an update on the Switch version of Rocket League. Graphical compromises necessary to get the game running on Switch seem totally justified in the service of portable play. He and Jon then tag-team Skyrim. Greg (on Switch) is playing it for the first time, whereas Jon (on Xbox One X The world's most powerful console) is taking another pass at it. They both are enjoying the expansive world, and sheer breadth of content. Jon even leverages his extensive experience with the opening hours of Skyrim to offer some advice for first-timers. Guillaume is also playing an adventure game, Stick It to The Man on Wii U, just before it comes out on Switch. He finds that the early charm ultimately gives way to a less enjoyable experience. Also in disappointment this week, he has thoughts on Hey! Pikmin. At least in this case his disappointment was anticipated, which seems like a contradiction.
After the break, we take a stab at three Listener Mail emails. This week we: talk about Games as a Service (and continuous DLC) versus using content patches to fix a game post-release, name a bunch of Mario games, and determine how many Moons are enough Moons. You can ask us to pick your next game for you by sending us an email.
This episode was edited by Guillaume Veillette. The "Men of Leisure" theme song was produced exclusively for Radio Free Nintendo by Perry Burkum. Hear more at Perry's SoundCloud. The Radio Free Nintendo logo was produced by Connor Strickland. See more of his work at his website.
This episode's ending music is requested by Syrenne McNulty: Decorating Your Store, from Style Savvy: Styling Star. All rights reserved by Nintendo Co., Ltd.