Cold pizza at 9:30 in the morning, waiting to watch Daredevil's cartoon voice actor play this fighting game. This is the story I was born to tell.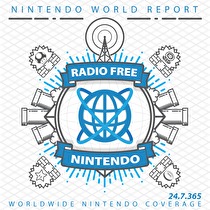 Subscribe via iTunes (Please rate and review, too!)
Seemingly for weeks now, we've been trying to get the show under two hours. We didn't succeed this week either, so we gave up instead. To compensate, we swapped Listener Mail with New Business to give your questions a chance to take as long as they need. And boy, you all delivered some fun questions. This week we build our own Mario spin-off roster, add waggle to make a game worse, share our best and worst E3 moments, and answer a listener's birthday request for a game of 20 Questions. You can send us your birthday wishes here.
After the break we talk a little about the ARMS Nintendo Direct. The Internet is enamored with Twintelle, but Byte & Barq are out there making life safe.
Gui ends the show dispensing with some New Business. He has some thoughts on the F2P Kirby experience Team Kirby Clash Deluxe, the Zelda Oracle games, and Kuru Kuru Kururin + Crazy Taxi + Plumbers Don't Wear Ties hybrid Roundabout.
If you're not a regular listener of NWR's Talk Nintendo Podcast, you should give it a try. Hosted by Perry Burkum (the composer of our theme song) and Casey Gibson, they provide a weekly wrap-up of news, downloads, and what they've been playing. This week they made the ill-fated decision to have James as a guest. The trio talks about how all this happened and have a Developer Deep Dive on Capcom. It was a lot of fun.
This episode was edited by Guillaume Veillette. The "Men of Leisure" theme song was produced exclusively for Radio Free Nintendo by Perry Burkum. Hear more at Bluffs Custom Music's SoundCloud. The Radio Free Nintendo logo was produced by Connor Strickland. See more of his work at his website.
This episode's ending music is Port Town from F-Zero. It was selected by Greg. All rights reserved by Nintendo Co. Ltd.