The Radio Free Nintendo crew wasn't at PAX East, but that's okay: they're not in this episode either.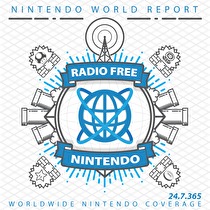 Subscribe via iTunes (Please rate and review, too!)
Due to a series of foreseeable but unfortunate events, Guillaume finds himself manning the fort this episode. Fret not: Talk Nintendo has sent for reinforcements in the form of Perry Burkum and Casey Gibson. We quickly move on from Guillaume's crusty old 3D Out Run "New Business" and talk about their PAX East experiences and the exciting upcoming Switch games they've seen there. Greg makes a late entrance in order to quickly touch on The Legend of Zelda: Breath of the Wild, and we close the segment with Perry's impressions of Blaster Master Zero, which he reviewed for Nintendo World Report.
Perry bows out for Listener Mail, but James decides to make an appearance, so we discuss learning all of Super Mario Bros. 3's secrets almost by osmosis; the expectation of backwards compatibility; Capcom's recently announced collection of NES Disney games and how it snubs the Switch; the weight of My Nintendo rewards when choosing to buy a physical or digital version of a game; and we recommend a few 500 Wii Points VC games. You can send us your suggestions for a theme, or questions and comments, to our mailbag.
This episode was edited by Guillaume Veillette. The "Men of Leisure" theme song was produced exclusively for Radio Free Nintendo by Perry Burkum. Hear more at Bluffs Custom Music's SoundCloud. The Radio Free Nintendo logo was produced by Connor Strickland. See more of his work at his website.
This episode's ending music is Tumbler from World of Goo. It was chosen by Greg Leahy. All rights reserved by Kyle Gabler.