We could all die tomorrow; the odds are very high.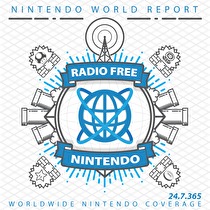 Subscribe via iTunes (Please rate and review, too!)
The entire Radio Free Nintendo team has reassembled for one of the last episodes before the launch of Switch.
We start the show with New Business, and James has a look at Fire Emblem Heroes. You've probably all played it already, because it's free, but that doesn't stop us from talking about the game and its marketing potential. Guillaume returns to Dreamland with Kirby's Return to Dreamland. Where he was before is a major point of discussion. He also has a look at Final Fantasy Crystal Chronicles: Rings of Fate, but we're more interested in examining the Japanese interest in cat herding. Greg has divination powers, and he also has thoughts on SteamWorld Heist for Wii U. Jon didn't have much to speak about. He was out of town all week and saw a concert; it was good. End of New Business.
We follow our break with Listener Mail. Topics covered: the versions of Breath of the Jon, what stray puppies are in Jon's Wii U backlog, and Jon's advice for someone who isn't excited about Wii U games anymore. The rest of us are here too, but Jon's aura contaminates this segment from the jump. You can have our breath down your neck by sending us an email.
We will be recording our RetroActive on Princess Tomato in the Salad Kingdom on March 2, less than an hour before the Switch launch! If you want to contribute to an episode that will sound weirdly out of place, you can post your thoughts in the official thread.