Why are they talking about Devil's Third?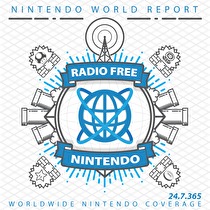 Subscribe via iTunes (Please rate and review, too!)
Episode 103 is famous for James' folly in inviting a "Dangerous Duo" to guest on the show. Exactly 400 episodes later, and necessitated by the holiday absence of Jon and Gui, James invited another duo to join the show. This week, Greg and James are joined by eShop eXpert Daan Koopman and self-professed Senran Kagura fan Syrenne McNulty. The seasoned-hand of a now veteran host kept the show (mostly) on course, beginning with Daan's look at two Japan-only 3DS titles. First, he attempts to answer the question: "What IS Miitopia?" The answer is startling. He then takes a look at Match 4 RPG Puyo Puyo Chronicle. Syrenne gifts us with her Top 10 games of 2017 - all formats. And I do mean ALL formats.
James and Greg forego New Business to instead talk about the state of the games industry and games media. This crew, all experienced in different formats of the video game press, and in Syrenne's case development, is well-positioned to discuss the health of the industry and to answer a Listener Mail question about the preponderance of 7.0 ratings in reviews. In lieu of flowers, please send your questions to our inbox.
You can check out Daan's Coffee Talk on SoundCloud. The NintenDaan YouTube is a treasure-trove of Nintendo content. You can see what Syrenne has been up to later this month, but for now it is a contractually-mandated mystery. I am not linking to the Devil's Third video; find it on your own.
This episode was edited by James Jones. The "Men of Leisure" theme song was produced exclusively for Radio Free Nintendo by Perry Burkum. Hear more at Bluffs Custom Music's SoundCloud. The Radio Free Nintendo logo was produced by Connor Strickland. See more of his work at his website.
This episode's ending music is Ending Theme from Super Castlevania IV. It was selected by Greg. All rights reserved by Konami Digital Entertainment Co., Ltd.