The only thing rushing to get stars in this joint are the Luigi cookies.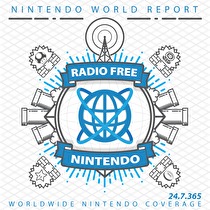 Subscribe via iTunes (Please rate and review, too!)
It's James' last episode before 500, so he was eager to spend some time with his friends on the show. Knowing this, Jon made himself scarce. Instead, we are joined on New Business by Karen, who joined Guillaume at the annual Nintendo of Canada holiday games preview. Staged at a - in no way symbolic - wax museum, they had the chance to play the already-available demo for Pokemon Sun and Moon, Mario Party Star Rush, Super Mario Maker for 3DS, and nihilism. The last one isn't a game; it's just the unavoidable sense of nothingness emanating from that lineup. Karen is a fan of LEGO City Undercover, and gives some thoughts to supplement last week's RetroActive. Her perspective really helps us BUILD on previous thoughts. Greg also has additional thoughts on LEGO City Undercover, as well as thoughts on Ghouls'n Ghosts and Dragon Quest VII. James wraps up New Business with updated impressions of Corpse Party before detailing Avenging Spirits, a pre-Geist game where you play as a ghost who possesses and kills lots of people.
After the break, we mark the return of Listener Mail! This week we review your Switch predictions, fantasize about a Bayonetta cartoon, map DS games to a modern touch screen, and conceive of plastic doodads to attach to the side of Switch. You can send us your Switch mock-ups via our inbox.
Also, feel free to send us your "RFN Episode RetroActives." We tease this terrible idea at the end of the show, but with the impending crush of Episode 500 we would love to hear your review of some RFN Classics. Just please don't write about the disaster that is 103. Or the response of 104. Or the unintended consequences that is 105. The die is cast for this mistake, so make it with us!
This episode was edited by Guillaume "Boo Urns" Veillette. The "Men of Leisure" theme song was produced exclusively for Radio Free Nintendo by Perry Burkum. Hear more at Bluffs Custom Music's SoundCloud. The Radio Free Nintendo logo was produced by Connor Strickland. See more of his work at his website.
This episode's ending music is PianoX3 (Sylvalum - piano arrangement) from Xenoblade Chronicles X. It was composed by Hiroyuki Sawano and requested by James in honor of the game's anniversary. All rights reserved by Nintendo.