Why do we discount the value of puzzle games? That's a riddle, please answer it.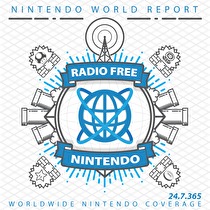 Subscribe via iTunes (Please rate and review, too!)
After a month in the wilderness, RFN is reunited. And to celebrate, the team has all the newest titles for New Business. First up, Guillaume has a report on Metroid Prime: Federation Force, the most controversial non-issue in recent gaming. After burning himself on the hot takes, he takes a look at Donkey Kong Land. As you can imagine, the GameBoy was an imperfect home for the detailed sprites for which the Donkey Kong Country series was known. Jon explains World of Warcraft to us, in anticipation of its upcoming expansion, Legion. This is not a show of restraint in not making a joke here; literally all of the possible jokes have already been made. James takes a look at the demo for Phoenix Wright: Ace Attorney - Spirit of Justice. Cognizant of the fact this demo has been discussed by TYP, and the game by Syrenne, he quickly falls back into talking about .hack//Infection - and the polymorphic products it portended. Greg concludes New Business by violating all the rules of animal conservation in Pokémon Snap, now available on the European Wii U Virtual Console.
After the break we dive into another load of Listener Mail. Topics covered this week include the devaluation of puzzle games, hidden gems in the 3/DS libraries, childhood-defining consoles, and the perils of localization. Controversial statements don't stop on RFN, and you can put us in position to speak uncomfortable truths via the power of email.
Next week we'll be announcing the games for our next RetroActive poll. We've settled "Open World" games for our topic, so if you have any suggested games beyond the obvious (Bully, Chinatown Wars, etc) let us know.
This episode was edited by Guillaume Veillette. The "Men of Leisure" theme song was produced exclusively for Radio Free Nintendo by Perry Burkum. Hear more at Bluffs Custom Music's SoundCloud. The new Radio Free Nintendo logo was produced by Connor Strickland. See more of his work at his website
This episode's ending music is Footsteps of Time from Persona Q: Shadow of the Labyrinth. It was requested by Dingens. All rights reserved by Atlus Co., Ltd.