Let's just remove any artifice here; everyone gets a million stars and none of it matters.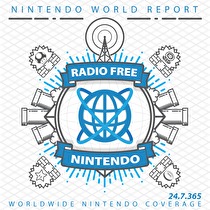 Subscribe via iTunes (Please rate and review, too!)
Guillaume returns after doing three weeks in prison for his role in an elaborate scheme to install more charm in the world, and apparently this new, prison-hardened Gui scared away Jon Lindemann. One day we'll be whole again, but this isn't it. After a belabored attempt to start the show, James gives up and ejects us into New Business. Guillaume bullied children at Mario Party 9, until an avenger for justice knocked him from his pedestal. He then slinks off to the hilariously-priced 3DS sequel to an Xbox Live Indie Game, Gotta Protectors. The 8-Bit tower defense/kill-em-all hybrid is a lot of fun, and has fantastic music that you can upgrade for a measly fee of $8 US. James is a Tadpole Treble dissenter, so instead he dives into the meta reality-that is a real, fake, MMO set in the far future of 2010 with .hack//Infection for the PS2. Greg wraps up New Business with thoughts on Monster Hunter Generations before "Gettin' Jiggy" with Banjo-Tooie.
After a direly needed break, things continue to fall apart during Listener Mail. A simple question on the future of Rhythm Heaven receives no meaningful answer; a question about video game violence results in James badmouthing all media from the interwar period; and a question about AM2R results in obscenities being thrown at Shigasa-faux Itois. James is pretty much responsible for all of this, and he isn't sorry. You can let James ruin your question by emailing it to us.
If you missed it last week, Greg caught up with former RFN host Dr. Jonathan Metts to see what a year of RFN sobriety has done for him. May we all one day live such a healthy existence. James took the opposite approach, streaming a collection of eShop games, selected by Kusoge Master Daan Koopman and troll friend/fiend of the show Syrenne McNulty. You can watch him slowly lose patience with his guides as they gleefully direct him to ever-worse gameplay experiences.
This episode was edited by Guillaume Veillette. The "Men of Leisure" theme song was produced exclusively for Radio Free Nintendo by Perry Burkum. Hear more at Bluffs Custom Music's SoundCloud. The new Radio Free Nintendo logo was produced by Connor Strickland. See more of his work at his website
This episode's ending music is The Withered Forest from Etrian Odyssey. It was composed by Yuzo Koshiro, and selected by Guillaume. All rights reserved by Atlus Co., Ltd.