Greg is not a man willing to negotiate on the purity of his Yoshi experience.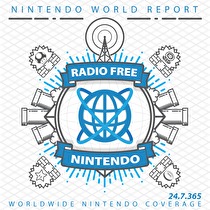 Subscribe via iTunes (Please rate and review, too!)
Jon took the week off to perfect his floating Vita case, so your RFN experience this week is limited to Gui, Greg, and James. Nintendo blessed us by releasing the demo for Blast Ball the day of recording, so all three panelists have thoughts on this competitive soccer-shooter side-game to Change.org Presents: Not My Metroid. Greg has thoughts on SNES Shooting Gallery Wild Guns; coincidentally, Natsume has a recently-announced remake on the way. Guillaume has an update on Castlevania: Order of Ecclesia, and it sounds like he intends to let Dracula win. Guillaume is the most irresponsible vampire hunter. He also looks at Flying Dragon: The Secret Scroll, an NES fighting game recently released on Wii U Virtual Console. He and James then team up to give an unplanned update on Tokyo Mirage Sessions #FE. I'm sorry. I promise this is the last time.
After the break, it's time for Listener Mail. Topics this week include: being a "daddy" named James Jones, getting into Pokémon after Pokémon Go, casting a Shiek game, and our gaming influences. You can tell us how Miitomo has lead to your impending divorce by sending us an email.
This episode was edited by Guillaume Veillette. The "Men of Leisure" theme song was produced exclusively for Radio Free Nintendo by Perry Burkum. Hear more at Bluffs Custom Music's SoundCloud. The new Radio Free Nintendo logo was produced by Connor Strickland. See more of his work at his website
This episode's ending music is Rainbow Road (N64) Theme from Mario Kart 8. This ending was requested by Connell. All rights reserved by Nintendo.