As Season 5 approaches its first anniversary, we've redoubled our efforts to take the mantle of World's Most Important Nintendo Podcast seriously.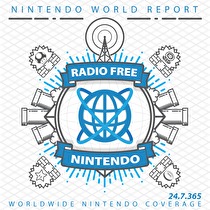 Subscribe via iTunes (Please rate and review, too!)
How do you introduce an episode in which Japan has totally overwhelmed each and every panelist? Like this: we're joined again this week by "Friend of the Show" Syrenne McNulty, who we tasked with being our personal #FE Sherpa (no Back to the Future ball cap required). But first, Greg kicks off New Business with concluding thoughts on Kirby: Planet Robobot. He then further cements the vampiric transformation of RFN with a look at Castlevania: Aria of Sorrow. Guillaume tries out the demo for 7th Dragon III: Code VFD (a game he's already played), and the terribly racist Super Adventure Island. RFN will lead the campaign to boycott all future games from Hudson and its parent company Konami. Jon talks about the life, death, and rebirth of his 3DS - as slain by Nintendo customer support, all in service of trying the Monster Hunter Generations demo, which he then discusses. James needs help to talk about Tokyo Mirage Sessions #FE, a game so aggressively Japanese that it remained undubbed; not for cost reasons, but rather because the English language is incapable of existing in the same world as this game. Syrenne attempts to assist, but this entire preview rings of non-sense. Syrenne pushes RFN in a whole new direction, with thoughts on PC title Kindred Spirits on the Roof - a Japanese Visual Novel that tastefully combines the topics of lesbian love and spiritual possession.
After the break, we have an abbreviated Listener Mail segment. We are asked about the viability of a subscription-driven Nintendo Network, and if Nintendo's Zelda-focused E3 was the right decision. You can question our decision making by sending us an email.
If you want to hear Syrenne and NWR's Donald Theriault talk Zero Time Dilemma, check out the special Connectivity episode they recorded. Warning, spoilers.
This episode was edited by Guillaume Veillette. The "Men of Leisure" theme song was produced exclusively for Radio Free Nintendo by Perry Burkum. Hear more at Bluffs Custom Music's SoundCloud. The new Radio Free Nintendo logo was produced by Connor Strickland. See more of his work at his website
This episode's ending music is Battleship Cat Forever from Gokujyo Parodius. All rights reserved by Konami.