Ten years on, Radio Free Nintendo has never answered our very first listener question.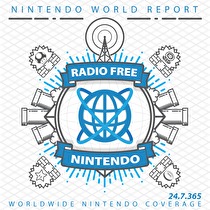 Subscribe via iTunes (Please rate and review, too!)
It's been ten years since the date of our first podcast recording. Although we aren't really inclined to make a big deal about this anniversary, we start the show with an amusing look at what podcasting was in 2006. For a big blowout, stay tuned for Episode 500.
New Business starts with James tapping into his Summer of 2 Hot 4 Games emergency rations a bit early, with the 2006-appropriate Moero! Nekketsu Rhythm Damashii Osu! Tatakae! Ouendan 2. Can six overly-enthusiastic cheerleaders counter the death of the Sun? Only if you believe. Meanwile, Guillaume has discovered that he has a crippling gambling addiction. He starts with his newest obsession, card game/horse racing hybrid Pocket Card Jockey. Greg and James seem more interested in naming his horses for him. He then has thoughts on Pinball Arcade, now available on Wii U, and once again James and Greg seem more interested in naming pinball tables. Greg has our second import DS title of the week, with Ganbare Goemon: Tōkai Dōchū Ōedo Tengu ri Kaeshi no Maki. Before Konami betrayed us all, and after Konami realized their mistake in trying to make a "serious" Goemon game, we received this final entry in the series. It's a fitting eulogy for a hero, executed by his tyrannical lord.
After a break, it's time for Listener Mail! Topics covered include using games to cure insomnia, publishing on NX in 2017, Nintendo's Big Three, and retirement. You can ask us to quit via our inbox.
We are two weeks out from our RetroActive on Castlevania: Rondo of Blood. It's not too late to get involved! Get started playing now, and post your thoughts in the talkback thread.
Thanks to Connor for our new album art!
This episode was edited by James Jones. The "Men of Leisure" theme song was produced exclusively for Radio Free Nintendo by Perry Burkum. Hear more at Bluffs Custom Music.
This episode's ending music is Super Smash Bros. Brawl Main Theme from Super Smash Bros. Brawl. It was composed by Nobuo Uematsu. All rights reserved by Nintendo.