Despite showing up in this title, Falco Lombardi's child with Mata Hari is only recognized as side-canon.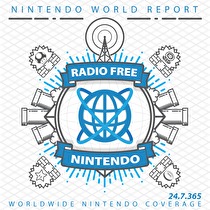 Subscribe via iTunes (Please rate and review, too!)
Europe and North America inch (centimeter?) ever closer towards library parity this week, with two major releases for Nintendo platforms. James leads off with the first, Bravely Second: End Layer for 3DS. Europe got this game months ago, but finally anime is happening in America. James spent an unhealthy amount of time with the demo - in a single sitting - and has thoughts on its structure as well as the very specific challenges of making a direct sequel to a JRPG. Jon is on the hunt for the next Tub-Time Game of the Year candidate, with the Vita release of Axiom Verge. This Super Metroid-inspired indie game is coming soon to Wii U, which is a good thing (especially now that none of our panelists are on the take). Guillaume cruises through space in neon-colored side-scrolling shooter Star Ghost, apparently composed by David Wise on an off-day. He then explores the demo of Pocket Card Jockey, the latest game from the progenitors of Pokémon. Let's just say it puts the freak in Game Freak. Lastly, Greg wraps New Business with very early thoughts on Star Fox Zero. To say this game's path to market has been long would be a bit of an understatement, but it's here now! Get some early thoughts on the new game modes and the divisive use of motion controls.
After a medically prescribed break, it's time for Listener Mail. Topics covered this week include: port buying (with a foray into European home versions of arcade classics for Zilog Z-80-based systems), mortality and mating in Fire Emblem and the eternal conflict therein, and the impact of this half-step generation of consoles on the NX (none of which we know anything about officially). If you want us to turn your burning question into a dialog on the multinational disgrace US Gold we can help! Send us your question to our inbox.
A pair of housekeeping reminders. Voting ends very soon for our Castlevania RetroActive. Polling is very close, so vote now! As a reminder, your candidates are:
Super Castlevania IV (1991/SNES)
Castlevania: Rondo of Blood (1993/PC Engine)
Castlevania: Aria of Sorrow (2003/GBA)
Castlevania: Order of Ecclesia (2008/DS)
Castlevania: The Adventure ReBirth (2009/WiiWare)
Lastly, James was on Radio Trivia last week. In a bit of role-reversal, he picked the games for normal host, and frequent RFN guest, Michael "TYP" Cole to guess. He also violated core tenants of what makes Radio Trivia what it is. Of course he did. Despite James' presence, you should give it a listen. Radio Trivia is a fun show that features a lot of great music.
This episode was edited by Guillaume Veillette. The "Men of Leisure" theme song was produced exclusively for Radio Free Nintendo by Perry Burkum. Hear more at Bluffs Custom Music.
This episode's ending music is Day in the Forest from SNES adventure game Drakkhen. It was requested by Taramoor from the NeoGAF forums. All rights reserved by Infogrames and Kemco.