Don't worry; my safe deposit box has climate control.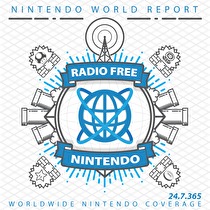 Subscribe via iTunes (Please rate and review, too!)
There is no escape from the Miitomo menace, but this week a renewed effort by the allies keeps evil in check. This allows for a more traditional (read: old) New Business. Guillaume leads off with his thoughts on the undeniably classic Yoshi's Story, now available on the long-forgotten N64 section of the Wii U Virtual Console. He follows up with a poke at WarioWare: Touched!, which is now available as a My Nintendo bonus. Jon gives us more thoughts on Miitomo, and a new mantra on life - "Stupid, not smart. Kids, take that to heart" - before updating us on his questionably-paced trek through Pokémon Yellow. Greg is trying to get himself ready for the impending release of Star Fox Zero by returning to the series' roots with Star Fox for the SNES (he's playing on original hardware, because that's the only way to play it officially). James closes out New Business with the most questionable of decisions: Project X Zone 2. Why did he buy a game he knows will make him crazy? Why is he playing it? Is he writing these questions in the hopes someone will save him from himself? Answers: No idea, No idea, Yes.
After an apology-worthy Now Playing segment it's time for Listener Mail. The Lords of Thunder were called for this week, but were apparently unable to answer their phones. Topics covered (slowly) include: future of emulation with console-specific hardware, RFN's in-jokes, should you sue Nintendo (yes), Zelda tech demos, and Nintendo's refusal to give us a proper Paper Mario game. You can send us your legal briefs via our inbox.
It's planning time for our next Retroactive, and this time we're turning our attention to Castlevania. We've somehow never featured a game in this legendary series, so it's time to solve this problem. We first need to select the candidates, so send us your suggested Castlevania games and we'll put out a poll in the next couple of weeks.
This episode was edited by James Jones. The "Men of Leisure" theme song was produced exclusively for Radio Free Nintendo by Perry Burkum. Hear more at Bluffs Custom Music.
This episode's break music is the Title Screen music from Lords of Thunder. It was produced by T's Music. All rights reserved by Hudson Soft/Konami
This episode's ending music is Mona's Pizza Song (Japanese) from Super Smash Bros. Brawl. All rights reserved by Nintendo.