I just want to see his diary!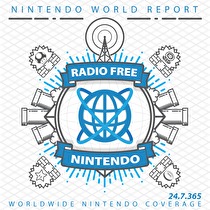 Subscribe via iTunes (Please rate and review, too!)
There's a growing backlog of Nintendo products currently available only in Japan, and as the universe's most authoritative for all Nintendo information, RFN is obligated to act. To get all the details on: Miitomo, Tokyo Mirage Sessions, and Shin Megami Tensei IV: Final we recruited friend of the show Syrenne McNulty, who lives and breathes these kinds of very Japanese experiences. Gui continues to try to love Breath of Fire, taking a chance with Breath of Fire II for the GBA. Does the double experience help? No, but apparently he hates video games now anyway. Greg tries his hand at the demo for Pokkén Tournament and finishes up with Twilight Princess HD. The rest of the team feigns interest, still worn out having talked about the game last year. Jon cautioned that giving his thoughts on the Halo World Championship would turn into a "15-minute philosophical discussion," and despite James' insistence that he would keep it under control, Jon's predictions were on point. James, in a sacrifice for the show, passed on his New Business this week, not because he couldn't remember the terrible name of Wii U eShop title 6180 the moon.
After the break, we decided to chat about rumors, hoaxes, and the desire to believe - in light of the recent NX controller hoaxes. At the time of recording, the second hoax had not been revealed as a 3D-printed model, but the first had been confirmed as CG. We start on point, but at some point segway into largely unrelated territory - a trek befitting Radio Free Nintendo.
No Listener Mail this week, but that's what makes our show go. Fuel up our production with your emails.
This episode was edited by Guillaume Veillette. The "Men of Leisure" theme song was produced exclusively for Radio Free Nintendo by Perry Burkum. Hear more at Bluffs Custom Music.
This episode's ending music is Save Haven from Resident Evil Remake. The game was composed by Shusaku Uchiyama, Makoto Tomozawa, Misao Senbongi. All rights reserved by Capcom.