Nobody can wait for Pocket Card Jockey or Radio Free Nintendo.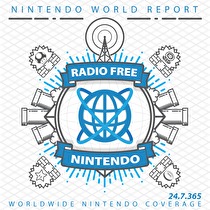 Subscribe via iTunes (Please rate and review, too!)
It had been 112 days since the last proper Nintendo Direct, and Nintendo finally answered fans' prayers. Jon, Greg, Gui, and James decided this kind of an event couldn't wait until Sunday for our expert analysis. We have all the topics you care about from the latest Nintendo Direct: Yo-Kai: Romance of Three Kingdoms, Fire Emblem: Cipher, Lost Reavers, Disney Art Academy, Culdcept Revolt, and Pocket Card Jockey. The team even finds time to talk about entries in lesser-known game franchises they think you should keep an eye on, such as: Paper Mario: Color Splash, Star Fox Zero, and Monster Hunter Generations. When everyone is surprised that you knew about these under-the-radar titles, let 'em know Radio Free Nintendo gave you the scoop.
If you're wondering why we posted this episode so early, or why it's labeled as 466 Part 1, that's because it's finally time for our Xenoblade Chronicles X Spoilercast. We recorded it on Wednesday, and will be releasing the two hour single-segment show Sunday evening at the regular time. If you haven't finished the game, and are sensitive to spoilers, you should probably listen only after you're done with the game.
We'll be back next week with a regular episode. If you have questions or reactions to today's Direct, feel free to send them to our mailbag.
This episode was edited by James Jones. The "Men of Leisure" theme song was produced exclusively for Radio Free Nintendo by Perry Burkum. Hear more at Bluffs Custom Music.
This episode's ending music is Tap Trial, from Rhythm Heaven Megamix. All rights reserved by Nintendo.