Don't believe Nintendo, baboons are horrifying.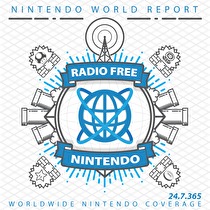 Subscribe via iTunes (Please rate and review, too!)
Radio Free Nintendo has two special episodes coming up. Next week is the show's first RetroActive in a metaphorical "Land of Oz." The following week is episode 450. How do you do an episode before those kinds of major events? The answer: you start it with New Business!
Greg has an update on Rare Replay, touching on Rare's early games before focusing on the connection between N64-classic Blast Corps and N64-also-a-game-I-guess Jet Force Gemini. Guillaume reports on the creeping Amiibo infection that has befallen RFN, Swedish mythological horror game Year Walk, and PlayStation Zelda-inspired, and anti-baboon propaganda, Alundra. Jon, recording from a drive-thru at the bottom of Ganymede's subterranean ocean, was apparently stranded there after finally deciding that that Galaxy 2 thing might be worth a few of his invaluable seconds. If you've not heard of Super Mario Galaxy 2, it turns out it's an okay game. Lastly, James hunts endless shinobi in FDS kunai-hell and Zelda engine reuse project Nazo no Murasame Jo ("The Mysterious Murasame Castle").
Following a properly recorded, from technical-standpoint only, Now Playing, it's time for Listener Mail. Topics covered include: Microsoft's corrosive effect on the games industry, favorite games, the future of the Nindies@Home program, and the value of a Wii U to a man of the road. You can send us your questions, whether you're at home or on the road, to our mailbag.
It's last call for our RetroActive: Mario Tennis: Power Tour! Comments have been light, so please post your thoughts on the game and there's a statistically high chance we'll read it on the show. We'll be covering it NEXT WEEK.
This episode was edited by James Jones. The "Men of Leisure" theme song was produced exclusively for Radio Free Nintendo by Perry Burkum. Hear more at Bluffs Custom Music.
This episode's ending music Funkmaster Flower Training from Chibi-Robo, composed by Hirofumi Taniguchi. All rights reserved by Nintendo..