A first-time guest brings New (Leaf) Business, while we check out PuzzDra, HarmoKnight, Kerbals, and a lot of retro games. Plus: the debut of Silky MC, James's cure for your backlog, Gui's hope for Splatoon, and Kojima's future with Nintendo.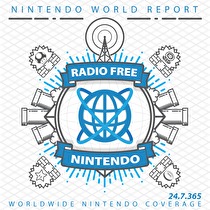 Subscribe via iTunes (Please rate and review, too!)
Guillaume revs up this episode with a fresh look at ExciteTruck and the cult hit Might & Magic: Clash of Heroes that started on DS before getting a sluggish console port. Next is our special guest, Karen, who finally makes an appearance on RFN after years of being mentioned in Gui's multiplayer impressions. They've both been playing free digital copies of Animal Crossing: New Leaf, and Karen explains how it's the perfect follow-up to their Tomodachi Life antics. James celebrates the official launch of Kerbal Space Program by getting extremely addicted to this PC simulation, but he breaks free long enough to revisit the original Final Fantasy: Crystal Chronicles. Jon tried the new demo for Puzzle & Dragons: Super Mario Bros. Edition on 3DS, and it leaves him with more questions than answers. Jonny closes out this first segment with a take on Nintendo's own "endless" runner, HarmoKnight, plus quick thoughts on dredging Typing of the Dead: Overkill from his Steam library.
That's not the last mention of Steam either, because Listener Mail gets straight into our shameful backlogs and how each one of us tries to hold back the surging tide of games. You'll also hear an extended preview of our hopes and fears for Splatoon, especially after its own Direct and surprise beta test. Last but not least, we give serious thought to the potential for Hideo Kojima to come work with Nintendo in his post-Metal Gear career phase. Ridiculous? Maybe not.
We love hearing from all listeners, so please send your own email to the show! Also, the tentative date for RFN RetroActive is set for the week of May 25th. If you've already started playing Twilight Princess, keep going -- this is the home stretch, and there's so much to consider in this huge and complex game. If you have any particular thoughts or just need a helping hand, this is your new favorite bookmark.
This episode was edited by Guillaume Veillette and Jonathan Metts. Now Playing was produced by Jon Lindemann and James Jones. The "Men of Leisure" theme song was produced exclusively for Radio Free Nintendo by Perry Burkum. Hear more at Bluffs Custom Music.