We're more than happy to recommend a few Club Nintendo rewards.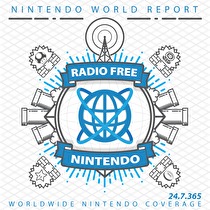 Subscribe via iTunes (Please rate and review, too!)
We have a snappy episode for you this week, starting with New Business As Usual. Jonny tees off with Gunman Clive 2 from the 3DS eShop, and he also recounts multiplayer (very multiplayer) bouts of Mario Kart 8 and ye olde Nintendo Land. James digs into the new demo for Code Name S.T.E.A.M. and finds cause for both hype and (mild) concern. Guillaume goes full retro with Wario Land 3 and Mighty Final Fight, and Jon gets annoyed by one of his all-time favorite games with Metroid Prime Trilogy.
Listener Mail includes three letters this week. One requests our top picks from the final set of 100+ Club Nintendo rewards. The second laments Joystiq's demise and asks about which gaming news sites we can recommend to fill that void in everyone's hearts. The final letter asks about the possibility of using the 3DS as a Splatoon controller, which launches a discussion on Splatoon local and online multiplayer.
We still have lots of good emails to cover soon, but you should never wait to send in a hot idea for the show. Also, we had to close RetroActive voting earlier than planned, due to a problem with the survey service... We'll fix that next time, but as it is, voting was cut off after 100 votes, and the winner is Pokemon: The Trading Card Game! Download your copy on 3DS (or find the old Game Boy Color cartridge) to play along and discuss the game with the RFN crew on an upcoming episode.
This episode was edited by Guillaume Veillette. The "Men of Leisure" theme song was produced exclusively for Radio Free Nintendo by Perry Burkum. Hear more at Bluffs Custom Music.