We finally get Bayonetta 2 and Captain Toad into New Business, just in time for the year's end. Plus: your Listener Mail!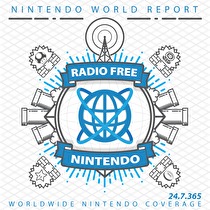 Subscribe via iTunes (Please rate and review, too!)
This will be our last full-length episode of 2014, and we tried to fill it to capacity with game impressions and email-driven topics. New Business features long-awaited, much-requested appearances by both Bayonetta 2 and Captain Toad: Treasure Tracker. Other games we've been playing include the Phoenix Wright Trilogy, Miiverse, Donkey Kong: King of Swing (via Clu Clu Land), classic PC shmup Tyrian 2000, and a follow-up on Xeodrifter.
We've been getting tons of awesome emails lately, and this episode can't possibly cover all of them. We do squeeze in correspondence about the Amiibo distribution fiasco, the animated Mario movie, possible exclusives to push the New 3DS launch, and a very special Smash Bros. online match. Things could change, but we hope to record an emails-only special edition of the show to be released around New Year's Eve, so you don't have to wait too long before the next RFN fix. If for some reason that doesn't happen, we hope you'll have a great holiday break and thank all of you for supporting us through another excellent year for the podcast. Special thanks to those of you who donated to our Episode 400 project and/or the Child's Play telethon -- we truly appreciate your help in enabling these crazy events.
And hey, a lot could happen over the next couple of weeks. Take a few minutes to send an email about late-breaking topics, or just tell us about the games you received for a holiday. Above all, take care and have fun!
This episode was edited by Guillaume Veillette. The "Men of Leisure" theme song was produced exclusively for Radio Free Nintendo by Perry Burkum. Hear more at Bluffs Custom Music.