Hear our early reactions to the funding success, plus lots of discussion about Nintendo games, Sega games, classic games, Japanese indie games, and massively multiplayer online role-playing games.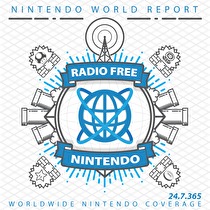 Subscribe via iTunes (Please rate and review, too!)
Last week we announced the RFN 400 campaign, and this week we're already celebrating its success. This show opens with a few minutes of basking in the generosity of our listeners, as well as more info about what happens next. Then, we get an unusual start to New Business with a conversation that starts as Guillaume's wrap-up thoughts on the book Console Wars. That quickly evolves into our own angles on how Sega performed in the 90s, leading to several minutes of what Jonny calls "Radio Free Sega".
Gui brings it back to Nintendo with his long-awaited (and surprising!) impressions of Rayman Legends on Wii U. The next topic comes from Jon, and that's Cybernator (SNES) on Virtual Console. This one may not be a classic, but it's a rather interesting example of that generation's mech sidescroller fad. That provides a lovely segue to James, who's got the modern equivalent in Armored Hunter GUNHOUND EX and also checks out flashy, zany new shoot-em-up Astebreed, both from the lesser known Japanese indie scene. New Business finally concludes with Jonny's further exploration of The Mysterious Murasame Castle, plus his first real exposure to the MMORPG thing with an outsider's perspective on the first several hours of Final Fantasy XIV: A Realm Reborn.
The remainder of the show is Listener Mail, and the two selections for this week include a look back at Link Between Worlds, how to control (or at least live with) your game backlog, and what bizarre franchise crossover is coming next. Please keep the great emails coming, and start getting excited for an awesome Episode 400!
This podcast was edited by Guillaume Veillette.
Music for this episode of Radio Free Nintendo is used with permission from Jason Ricci & New Blood. You can purchase their newest album, Done with the Devil, directly from the record label, Amazon (CD) (MP3), or iTunes, or call your local record store and ask for it!
Additional music for this episode of Radio Free Nintendo is copyrighted to Nintendo and is included under fair use protection.