Our games range from old to recent and brand new, including a stunningly difficult new platformer. We also look at the state of RPGs on Wii U and respond to Smash Bros tournament backlash.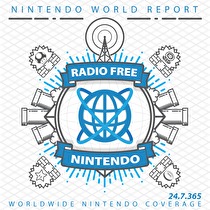 Subscribe via iTunes (Please rate and review, too!)
The core group is back together again this week, and we came prepared for a fun show filled with games and hot topics to discuss! Gui is up first to tell us about his early exit from Bravely Default (after dozens of hours), plus a Virtual Console jaunt with Adventure Island II. James checks out the new 3DS eShop release, Yumi's Odd Odyssey, and he kinda hates it. But not everyone feels that way -- Danny gave it a very positive review here at NWR, and Guillaume seems to be enjoying it too. Jon gives us some news before Jonny wraps up New Business by revisiting Wii Fit U, the stealth release that just got a useful patch and continues to prove itself as a useful fitness product.
For the feature segment, we have a trio of special topics this week. First up is a discussion of RPGs and why they still aren't showing up on Wii U. Next, we parse out the mountain of feedback on our Smash Bros. comments from last week's episode. You'll never convert James, but Jonny at least tries to establish a diplomatic tone for this passionate sub-community. Finally, we celebrate Koji Igarashi's freedom and imagine what awesome project he might work on as a newly independent developer in Japan.
We'll get back into Listener Mail next week -- there are several great ones already lined up, but we'll always take more of your hilarious and provocative emails! And don't forget to vote in the RetroActive poll; there are only a few days left from when this episode is being posted, so do it now while it's on your mind. One more thing... he forgot to plug it last week, so in case you missed Greg's latest appearance on Radio Trivia, un-miss that right now!
This podcast was edited by Guillaume Veillette.
Music for this episode of Radio Free Nintendo is used with permission from Jason Ricci & New Blood. You can purchase their newest album, Done with the Devil, directly from the record label, Amazon (CD) (MP3), or iTunes, or call your local record store and ask for it!
Additional music for this episode of Radio Free Nintendo is copyrighted to Nintendo and is included under fair use protection.