Let's take a field trip from Murder School to spend time with our buddy Donald, the newest Donkey Kong game, and so much more!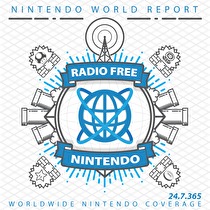 Subscribe via iTunes (Please rate and review, too!)
With Jon absent another week (as planned), we pick up from Garnett's explosive guest appearance last week with another friend of the show, Donald Theriault of the quasi-spinoff/community podcast, Nintendo Free Radio. Donald also graciously maintains the wonderful RFN official thread (OT) over at NeoGAF, where many of our listeners keep up with the show. He's come on a good week too, as we have much to discuss -- starting with a brand new Wii U game!
Guillaume officially kicks off the Donkey Kong Country: Tropical Freeze discussion, and while none of us are absolutely in love with the game, we speak highly of various aspects while also giving consideration to our problems with the game. We're probably not done with this one, so let us know what you think of it! James, the only one who hasn't jumped into DK (yet?), instead dives deeper into Weapon Shop de Omasse, with mixed results. Donald takes his turn with Bravely Default and also shakes the panel members to their very cores with a fever dream description of Danganronpa for the Vita. Jonny closes out this segment with further --and even more positive-- thoughts on Strider, which turns out to be a truly great, modern Metroid-style game for other platforms.
New Business was already pretty wacky, but things go way more off course in Listener Mail -- and there's fun in them thar hills! The first question makes Jonny regret ever suggesting that Nintendo should buy Xbox. Next, we hear from a listener who took part in an experimental "sales rep" program that could increase Nintendo's presence in retail stores. Then we lose all grasp of reality with a quick recap of Twitch Plays Pokemon before getting dirty deals on eShop cards (sorry, Canada!) and allowing a simple question about sequels to drive a massive, Square-shaped wedge into the heart of our team spirit! You can keep this madness rolling week after week by sending in your own email that we'll twist around into something completely unrelated but maybe hilarious!
This podcast was edited by Guillaume Veillette.
Music for this episode of Radio Free Nintendo is used with permission from Jason Ricci & New Blood. You can purchase their newest album, Done with the Devil, directly from the record label, Amazon (CD) (MP3), or iTunes, or call your local record store and ask for it!
Additional music for this episode of Radio Free Nintendo is copyrighted to Nintendo and is included under fair use protection.