Guys, we did it: Garnett Lee on a full episode of RFN. Listen up!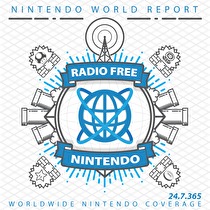 Subscribe via iTunes (Please rate and review, too!)
Many of our regular listeners already know that Garnett Lee's work on 1up Yours, Listen Up, and Weekend Confirmed has been a huge influence on the modern incarnation of Radio Free Nintendo. We've been trying --literally for years-- to get him on our show, and though he never resisted those offers, the scheduling just never worked out... until now. Garnett is a powerful presence on this episode, and we often launch into fun tangents while asking for his point of view on a planned topic. As such, the show notes were even less strictly followed than usual, and we had a blast playing with that balance throughout the show.
After a lengthy introduction/discussion with our special guest, we launch into New Business with a lot of clean-up before our first chance to talk about Donkey Kong next week. James does have a new game though, with Weapon Shop de Omasse from Level 5, plus an update from deep into Bravely Default. Guillaume has been playing DmC: Devil May Cry, and his surprise love for the reboot invokes optimism for Wii U-exclusive Bayonetta 2. Jonny checks out the new, hyper-snappy Strider game on PS4 (based on Capcom's non-linear NES classic) and Sony's beautiful invisible-stealth adventure, Rain. Finally all warmed up, Garnett surprises us with very positive remarks for Steel Diver: Sub Wars, the new free-to-try "contemplative FPS" with online multiplayer.
After a quick break, we return for a Q&A with Garnett that includes questions from the Internet, plus a few of our own. There's plenty of "inside podcasting", Japanese RPGs, even consideration of media bias against Nintendo. It's not too far from our usual Listener Mail segment, but with our industry veteran guest as the centerpiece!
We had so much to talk about that there wasn't time for regular emails at the end, so we'll hold those for next time. We expect to probably have another guest next week (Jon will still be on travel), so chip in your own question now and we'll try to answer a few!
This podcast was edited by Guillaume Veillette.
Music for this episode of Radio Free Nintendo is used with permission from Jason Ricci & New Blood. You can purchase their newest album, Done with the Devil, directly from the record label, Amazon (CD) (MP3), or iTunes, or call your local record store and ask for it!
Additional music for this episode of Radio Free Nintendo is copyrighted to Nintendo and is included under fair use protection.