This week brings lots of brand new Wii U and 3DS releases, and the King Nintendo Fan helps us kick off Pandora's Tower.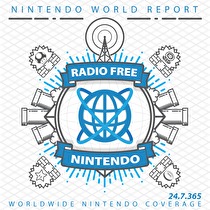 Subscribe via iTunes (Please rate and review, too!)
We're five this week, as Justin Berube comes over to help with RetroActive. That's because Jon hasn't been able to play it yet (long story), but Silky is still around for New Business and will be ready to jump in when we complete the two-part feature in a couple more weeks.
New games are abundant this week, as Jonny enjoys Rayman Legends, Gui tries Giana Sisters: Twisted Dreams, and Justin braves the legendary 8-bit shmup called Summer Carnival 92 RECCA. Jon discusses his problems logging into Final Fantasy XIV, but much more importantly, he has a special announcement regarding a certain Nintendo system! James isn't crazy about Dead Rising 2, nor is Justin about Mario & Luigi: Dream Team, but Jonny is quite happy to recommend Wario Land 3.
Jon skips out after the break, while the remaining four launch into the RetroActive discussion of Pandora's Tower for Wii. It's a truly interesting game from the Operation Rainfall trio, and we spend as much (if not more) time on the story, premise, and aesthetics than we do on gameplay. The latter will surely get more focus next time, as we plan to return to Pandora's Tower in two weeks for another segment. Between now and then, you have plenty of time to check out the game for yourself and keep feeding that RetroActive forum thread. Do it!
Next week is the big 350, and while it will be a low-key celebration, we do want to have a mega-batch of Listener Mail as a tribute to all the wonderful people who listen and send ideas for the show. If you want to be among that illustrious number, just send in a comment about the show and/or a question for our veteran panel. And if you've already done so -- thank you, truly! We see and appreciate every single one.
This podcast was edited by Guillaume Veillette.
Music for this episode of Radio Free Nintendo is used with permission from Jason Ricci & New Blood. You can purchase their newest album, Done with the Devil, directly from the record label, Amazon (CD) (MP3), or iTunes, or call your local record store and ask for it!
Additional music for this episode of Radio Free Nintendo is copyrighted to Nintendo and is included under fair use protection.